No, as usual the full story is more complicated.
Firstly, income tax and NICs only account for 41.5% of all money received by the government. 16.6% comes from VAT, 7.4% from corporation tax, and smaller amounts from various other taxes / duties (see table 4.6 on page 108 of the Economic and fiscal outlook for Oct 2018 from the Office for Budget Responsibility).
Since income tax is the biggest chunk of tax most people have to pay, typically 0.7% of that is the biggest personal contribution towards the cost of EU membership. However around 0.7% of the other taxes you pay will also contribute towards EU membership.
The government obtained the 0.7% figure used on your annual tax summary as £5.4 billion in EU transactions out of a total of £790 billion total managed expenditure. In table 5.2 of HM Treasury's Public Expenditure Statistical Analyses 2018, you can see where this £5.4 billion comes from:
Other versions of this breakdown are available with slightly different numbers. Some variance can be explained by different approaches in accounting, different time periods, or uncertainty in forecasts. For example, this summary on fullfact.org is based on HM Treasury's statement on the 2017 EU Budget. Some examples of these differences are highlighted in page 11 of that report, which is a now out-of-date forecast: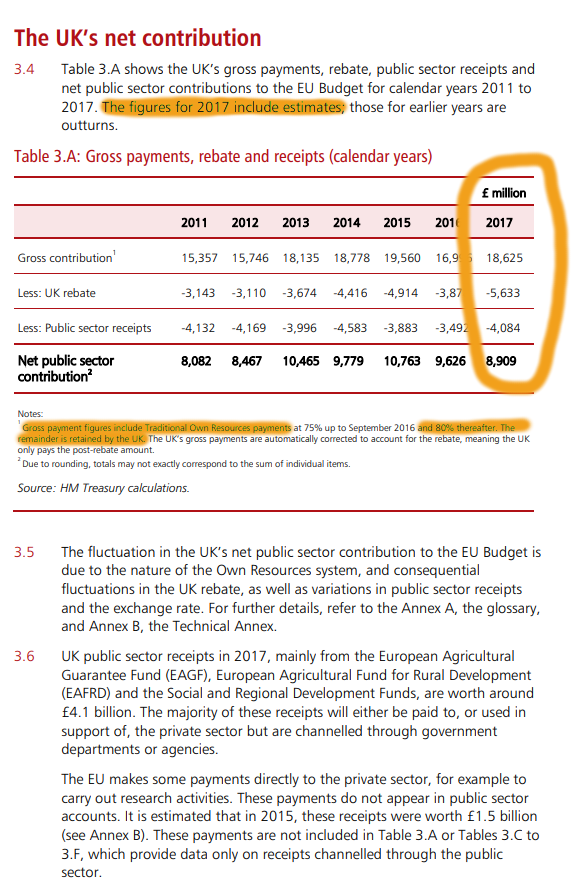 The UK's net payment to the EU is around £13 billion after applying the special discount of around £5 billion the UK gets, so the government funds the rest of the membership cost from elsewhere. However the true cost is effectively reduced to around £9 billion after factoring in the EU's contributions of roughly £4 billion to our public sector, and even further when counting contributions the EU makes directly to our private sector, such as research grants.
Furthermore, despite the illustration in your annual tax summary, not all money goes equally to all places. For example, National Insurance Contributions go into a ring-fenced NI Fund which counts towards state pensions, maternity allowance, jobseeker's allowance, bereavement support etc.. However the annual tax summary provided by the government appears not to take that into account.